There may be affiliate links in this post.
I was vaguely familiar with bone conduction before we received our Forbrain headset from Sound for Life, LTD. I was a skeptic and thought it was more science fiction than fact. Just last week, a character on a show I watch used a bone conducting device to communicate while undercover — See! fictional spies use these. And then we received ours. Wow! It has been several weeks and I still feel "wowed" when we use it. Yes, when WE use it. Every single one of us uses our Forbrain regularly. It is nothing short of amazing!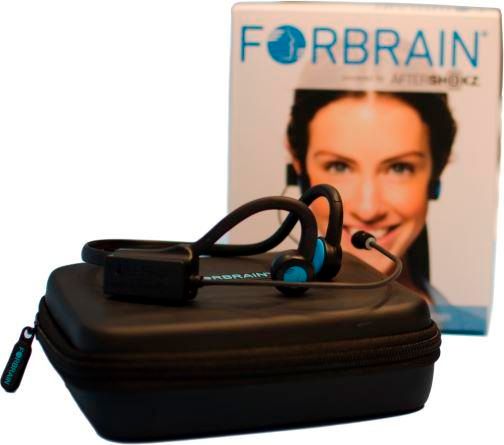 When our headset first arrived, everyone wanted to try it out. We took turns, putting it on and reading aloud – marveling at hearing ourselves without having anything in our ears. While each of my children was trying it out, I read the enclosed literature. I had mistakenly thought only our son with speech issues would be using this. Boy were my eyes opened to the applications! Each and every member of our family uses this at least a few times a week. It is lightweight, fits each of us – from young to adult, is comfortable, and has a long battery life. When it does need charged, it doesn't take long and it is ready to go again for several days. Now remember, that is eight of us using this for 15 minutes or so at a time. Remarkable!  As if the headset itself wasn't cool enough, it has its own sturdy case and replacement covers for the microphone.  It is definitely a very professional feeling setup.
You might be wondering just what we use this for beyond the obvious speech therapy applications. I have children that are still working on memorizing the times tables. I say still because they are years beyond the time when they "should" have them memorized. A few times a week, they slip on the headset and simply read aloud the times tables for 15 minutes. Flashcards can be used or just a printed sheet. We have some pages I have printed for math copywork (yes, it's a real thing) that are working great for a "script" for this. One learner, in particular, had practically zero recall prior to the time spent with Forbrain. Even multiplying is tough for this child. She has begun memorizing the multiplication tables – not working on it, but actually having them finally stick. She can recall a few sets. When you have been working at this off and on for a few years with no real results, this is nothing short of a miracle.
After reading that first day in the literature that even adults used this to prepare for presentations, my husband wanted to try. He has been utilizing the Forbrain headset whenever he reads Scripture aloud for our family. This has helped with his own memorization of these passages. Our emerging readers are using this, too. It has helped to improve their fluency as they read leveled readers. Their confidence is soaring. Our learners that are not working on reading skills or memorizing times tables are using this to aid memory for other subjects (science and Scripture).  When we return to poetry studies, I am hopeful that my daughter that does not "get" rhyme will see improvement as she uses the Forbrain.  There are so many applications for use beyond speech and language difficulties. This is one device we will keep using year after year.
And how is our child with speech issues doing? We have been hit or miss with keeping up with at-home speech therapy. It is hard to keep at something that your child is resistant to. He complains of how it makes him feel stupid dumb, so we have let it slide. We would come back to it again a few months later and work at it until he started to resist again. This on-again/off-again cycle was making a little headway, but others still struggle to understand him. While wearing the headset, his enunciation was much more clear. After only a few weeks, others could tell a difference even while not wearing the headset. I was afraid that this would only affect his speech while the feedback was occuring. Slowly, but surely, this is reahabilitating his speech. Something that I thought might take a professional (or someone with more patience than me) is happening right here at home. He is nearly eight, some say it is because he is finally growing out of it. His particular issues (apraxia of speech) are not something that will just lessen as he grows older. It takes retraining his mouth and brain to form the right sounds. I am positive the results we are seeing are due to the Forbrain headset. This is truly an answer to prayer.
Read more reviewers thoughts and experiences by clicking the image below.