There may be affiliate links in this post.
There are many reasons to learn foreign languages. Speaking and communicating with others is one reason. Another, especially for ancient languages, is for Bible study. When learning Greek for the purpose of Bible study, you want to learn Koiné Greek, also known as common or ancient Greek. This is different from the currently spoken language, known simply as Greek or modern Greek. My eldest has been learning Koiné Greek as a high schooler, but I see that she would have benefitted from beginning when she was younger. We (okay, mostly me) were excited to have the opportunity to review Hey, Andrew! Teach Me Some Greek! Level 3 Set from Greek 'n' Stuff.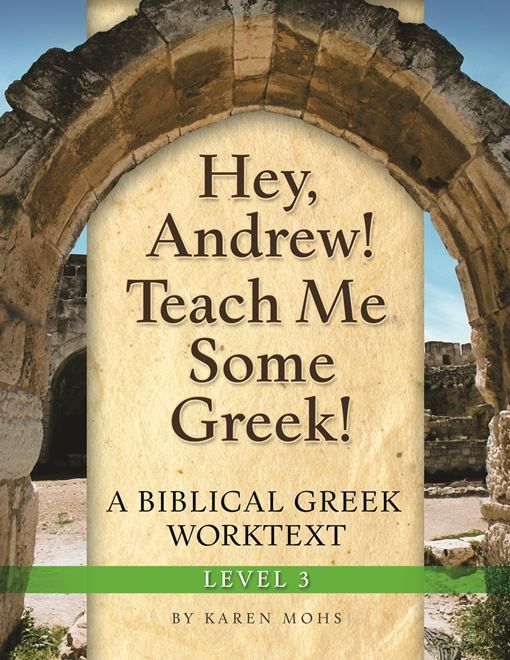 The middle three children, 6th – 9th graders, are my learners working through Level 3. A few months ago, I would have started the youngest, then a 1st grader, in Level 1. He is still beginning to read, but has made great gains, so he and his sister, a new 4th grader, will be working on Level 2. Level 3 is great for upper elementary through adults that have no experience with Greek.
The components we are working with are the worktext (with pages of flashcards in the back), the full-text answer key (the pages are answered versions of the worktext) and the pronunciation CD (levels 3 & 4 are on 1 disc). There are additional resources that make the whole learning experience easier and make the added practice enjoyable. These include the flashcards on a ring and the gospel of John copybook. You can also purchase a quizzes and exams book, sheet music for the alphabet song and a reader (which I love for my youngest learner, Levels 1 & 2).
With all of these coordinated resources, your whole family, regardless of learning style, can learn Greek gently and easily. One of the keys to success that we have found is to practice daily. It has gone much better when we do a little review and practice everyday rather than try to a week's worth in a couple of days. The practice does not need to be lengthy. The flashcards and pronunciation CD are easy to add to our morning time routine.
The typical pace for us, specifically as we were starting, was to cover a page each school day. With 5 pages per lesson, this worked out to be roughly one lesson completed each week. With 36 lessons in the worktext, the level can be completed in a school year. There is a lesson plan laid out for those that like to see how each day breaks down. We are used to working to mastery in all subject areas, so some lessons being completed more quickly while others take longer is not anything new to us. When learning something like a foreign language, you definitely want to pace to mastery learning. This means my children may not always be working on the same page each day, and that is okay.
The resources from Greek 'n' Stuff have not only made this easy on me as the teacher, but fun for my children. We will be utilizing these resources for everyone until we have completed all the levels offered. Not only does Greek 'n' Stuff offer Greek learning, but other Bible learning resources as well. Be sure to check out all the reviews by clicking the image below.