There may be affiliate links in this post.
We love art in our house – learning about it, looking at it, creating it.  We keep both famous artists' prints, family artists' paintings and the children's creations on display. We could charge admission. . . We love art! As our house starts to feel smaller as the children grow, I don't love the mess that seems to go along with creating art. But, I don't want to discourage their creativity. We do a lot of art in the summer, outside. Coincidence? No, not at all. Of course, I was excited to get my hands on a set of Kwik Stix, mess-free paint sticks from The Pencil Grip, Inc. We received a big set of the Thin Stix Creativity Pack and my children were thrilled.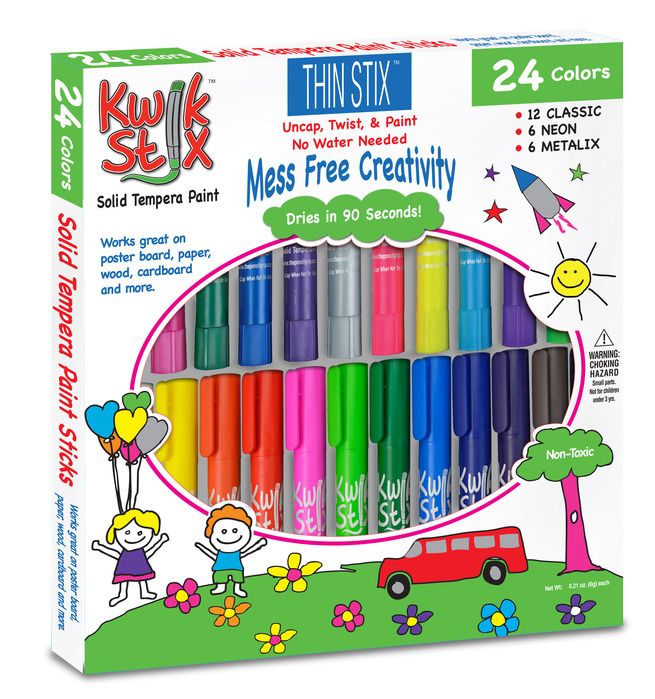 There are two different sizes or thicknesses of Kwik Stick. We received a set of the thinner ones which are similar in diameter to traditional markers. These were very comfortable for all of us to use. Our set has 24 different colors – including metallic and neon. The Sticks are easy to use – remove the cap and start painting. As needed, you can twist them to move the solid tempera paint up. The go on smoothly to all the various papers and surfaces we tried them on. Textured paper, for watercolor and acrylic painting, is our favorite surface. Because of the width of the paint, very fine details are not possible – but could be added with a different media (ultra-fine permanent marker worked well). Although, the youngest two, the main users of our Thin Stix, did not seem bothered by this at all. They were quite pleased with their creations.
My oldest daughter (17) is our most experimental artist. She has used a variety of media and wanted an opportunity to use the Kwik Stix, too. She commented most on how smooth and creamy the paint is. It goes on so easily and covers well. We are really impressed with this aspect and how quickly it dries. Due to that quick drying, blending and further manipulation is not possible. But, that is not the point – these are intended for your youngest artists. The point is how easy and without mess these are. So much so, that you will be saying 'YES' much more often.
Not only did we enjoy the mess-free creative experience, but it was quick and easy to jump in and start painting.  We weren't gathering the paints, paintbrushes, water, etc.   We only needed to grab what we wanted to paint on and the paint sticks.  There was no need to prepare the table with covers or relegate the painting to the outdoors.  There was no need to leave all the paintings spread around, laying flat to dry.  They were quickly hung up or put in an envelope to mail to grandparents.
We will be using these often during the colder months.  During the times when I would normally say "NO" to a messy activity like painting.  Now I know better – and have some better supplies.  We have found paint to say "YES" to.