There may be affiliate links in this post.
Geography is one of those areas that spans subjects. It can be covered through history. You can look at the art and other aspects of the culture. With earth science and ecology you can further explore geography. See? It works into so many areas. Yet it is still easy to neglect. We have been using a fun homeschool geography curriculum that makes it easier to include. Let's Go Geography is great for your younger learners (K-4th grade).
It is no secret that I love geography. We bring geography in whenever I can fit it in. But, I jump around quite a bit. Right away, one of the things I noticed about Let's Go Geography is the versatility in using it. We can go to any lesson we want to do. But, the easiest (and I think best for thoroughness) way to use it is with the emails. Each week, a new country, with the link to the lesson, comes straight to your inbox. What could be easier?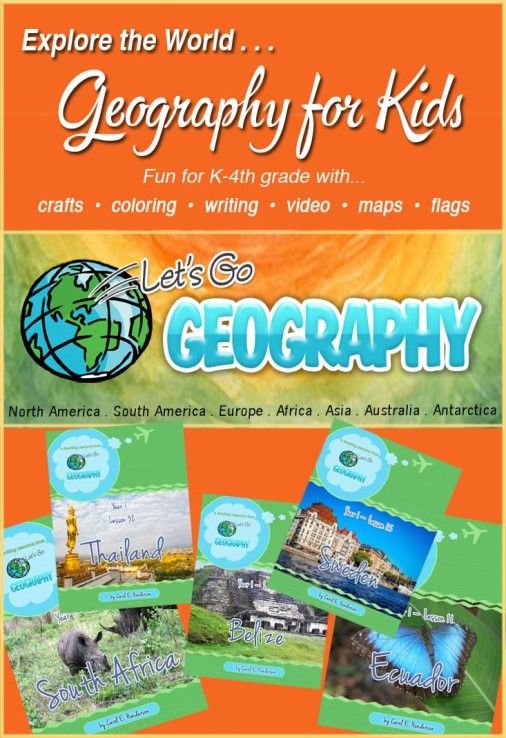 The lessons are arranged so that you spend some time in each area of the world learning about a few (3-7) countries, then moving on to a new continent. Each year the same order is used to cover new countries over the course of three years. Because this is the first year, Year Two and Year Three are not available for purchase, yet. If you want to see the full 3-year geography cycle there is a handy download. The lessons are spread over 36 weeks with some weeks set aside for review after two continents as well as year-end review. There are also some weeks with breaks, giving you 28 weeks of new countries being covered.
At first, we jumped around, exploring lessons on a whim. I let the three youngest learners (2nd, 4th and 6th graders) select a country for us to spend time with. Because we were on summer break during part of this review, we did not do this intensively. If we had gone at the pace my children wanted, we could have easily done a lesson a day.  Even with our regular schedule, it is very easy to complete a lesson in a week's time. This would also work well to do in a co-op setting where you meet once a week.  If you skip about, be sure to make use of that checkbox at the bottom of the lesson's page.  When you have checked a lesson as complete, it shows in the sidebar.  I love how easy this is to keep track of!
The rest of our time, we followed the reminders that were emailed. In the email is a link to the lesson page. From the lesson page, you download the pdf with the full lesson. There are five areas covered within a lesson: mapwork, flag, music, a tour of landmarks and other sites, and a craft or coloring page. Because this is designed to cover a range of ages, there is a variety of activities to explore these areas. You can do as many as you wish based on the ages and interest of your children.  Picking out books from the library to go along with our studies is something we have done for years.  In the lesson pages specific titles are not listed but instead you will find the call number for the country (or U.S. region).  I love that it is done this way.  So many times our local library doesn't have a book available.  This way, we can work with what is available on the shelf.
As much as we like doing crafty things, some weeks I wanted to avoid a potential mess.  We colored the printable page instead. I love how you can take what you want and make it work for you.  There are printable notebook pages as well as the map and flag pages.  One of the things my daughter especially enjoyed was creating her travel journal.  We received the downloads for the cover and dividers.  This made it easy to file and keep her pages organized.  This also made it easy to review the countries we had already learned about.  What a fun way to look back years from now and see the work she has done – and how well she knows geography.
With all of the printable pages, video links and wide possibility in what you use from the library, the lessons are self-contained.  Also, you are not dependent upon completing a previous lesson to go on to the next.  This has made working geography into a busy schedule so easy.  In other words, no excuses.
To read more reviews, click the image below.