There may be affiliate links in this post.
Have your middle school learners ever studied botany, or more specifically trees?  Even though we are regularly planting something, there is much we don't see.  We can observe many things, but there is still much to learn about botany.  Because of this, we chose The Book of Trees to review from Memoria Press.  Memoria Press publishes quality classical Christian homeschool curricula.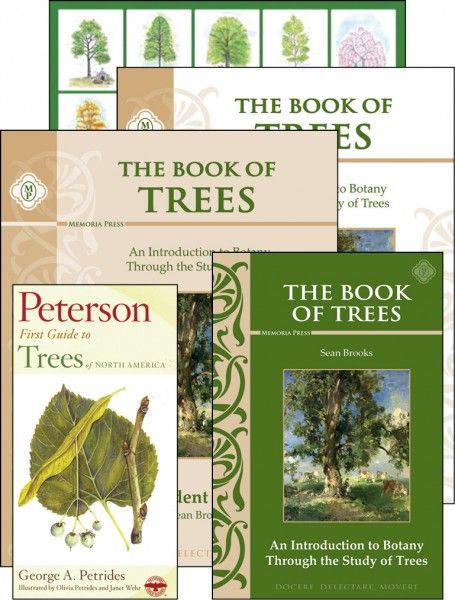 Trees have been some of our favorite things to observe in nature study.  We can observe how a tree grows, how the leaves change, but we don't see what happens inside or beneath the ground.  Trees are the main type of plant studied, but much of what is covered throughout applies to botany as a whole.  Obviously, there are physical differences, but as an introduction for later in-depth study of botany, this is great.  There are 16 lessons (plus 5 optional advanced lessons at the end, including reviews), making this perfect for summer study or a semester-long course.  Memoria Press includes this in their 7th grade curricula, along with biology, for the science covered that school year.
The set is comprised of The Book of Trees reader, approximately 80 pages of conversationally written, yet quite informative text; student book, 100+ pages for the student to answer questions, diagram, label and draw observations and unit quizzes; teacher guide, answered pages of the student book with the optional unit's quizzes and test.  These are the necessary books for this course; each student will need their own student book.  The diagram labelling and drawing are important aspects of the student's work.  The Tree Book For Kids and Their Grown-ups and Peterson First Guide to Trees are included in the complete set, but may be borrowed from the library as needed or substituted with internet searching.  We were given the three needed books for the purpose of review and I chose to purchase the two additional titles.  These are great resources if you like having your own library as we do.
We are working through this course at the pace of a lesson or so a week.  We are reading aloud from the reader, then completing the related student pages and activities.  My daughter that likes to write is completing most of the work, though our daughter that is an artist is helping.  We are orally discussing the questions, and our "scribe" records the responses.  This is working in our mixed-age group, though I can see how this course would work well for a learner to complete independently as well.  The age recommendation of 6th-8th grades is spot-on in our experience.  The two youngest tag-alongs are enjoying the study, but are finding as we go that things are above them.
We are really looking forward to the later lesson when we are filling in our tree observations.  These will be really fun to let each learner choose a different tree for sharing with the group and maybe some doing the same trees to see how their observations compare.  Thus far, the first section on learning about roots — and looking at some examples from our own plantings, have been the most interesting.
Based upon how much we are enjoying this Trees course, we plan to also study through Nature's Beautiful Order as well.  We love these classical resources!  Check out what other products the Crew reviewed this time from Memoria Press by clicking the image below.