There may be affiliate links in this post.
High School Credit — do those three little words worry you?  As a homeschool mama, they do me, though not as much as they used to.  I feel I finally have a handle on the basics, but I'm not so sure about some of the extra things — the areas that my teens are interested in.  How do those fit in?  Something I hadn't considered before, internship for high school credit, was introduced to me through a new book, of that name, by Sherri Seligson.  Published by Apologia Educational Ministries, Internship for High School Credit is exactly what the tagline says, "Practical Help to Explore and Direct Your Career Plans".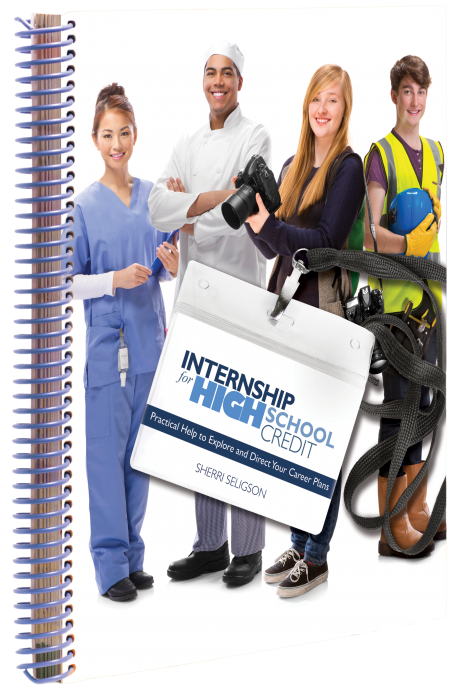 My second daughter wants to be a veterinarian.  Internship opportunities for her seem obvious.  She's going to be volunteering at our local Humane Society.  We'll explore the possibility of interning there as well as with a local veterinarian.  There is more to interning than what you would think.  And more so if you are wanting to document the time for high school credit.  That is where this book fits in.
My eldest daughter does not have a college-oriented goal.  She is interested in creating useful, artful things.  She enjoys learning about new artforms and media.  She hopes to make this a full-time business – or at least earn a living from it.  We are fortunate to live in a region of Indiana where there are various artists.  We had not even thought about pursuing an internship as a means of learning more about doing this for a living or earning high school credit.
While Internship for High School Credit is best suited for those seeking typical internships for traditional career goals, it is not too hard to see where some minor tweaking will make this quite suitable for those with more creative pursuits.  If you are homeschooling a creative type, or someone with learning challenges, you are probably not unfamiliar with tweaking and getting creative with making something fit your learner.
I especially think this book will be of great benefit for the student that does not know what they want to be when they grow up.  Spending some time in an internship of a possible career choice will go a long way in helping the decision-making process.  This will not only help build high school credit, but narrow down major choices when enrolling in university (can you say money-saving?).
Right at 100 pages, Internship for High School Credit is part workbook, part text.  Most of the information is for the student, but there is a section specifically to the parent.  The information found within the pages will guide you and your student through the process of creating a resume, an introduction letter and all you need to consider when looking for internship opportunities.  It then lays out the hours your student needs to put in for the credit they are seeking to earn.  But, it doesn't stop there, there are places for continued feedback throughout the semester (or two) during the internship.  This is the stuff I would have been clueless about.  I am so glad that Mrs. Seligson saw this need and created this invaluable guide.
Not only did fellow Crew members review this Internship for High School Credit book, but some families received How to Homeschool DVD course – something for families at the beginning or end of the homeschool journey.