There may be affiliate links in this post.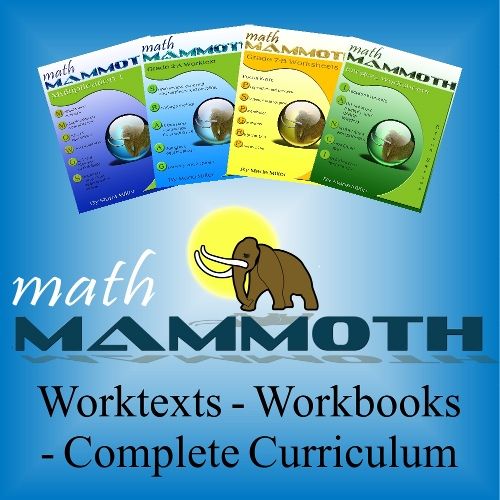 No other subject is like math.  Even my children who are mathy and enjoy playing with numbers have a love/hate relationship with it.  These children are pickier on the homeschool math curriculum we use than those that are not math inclined.  We have long been fans of 
Math Mammoth
, having used the Blue Series for years.  It works well to focus on specific topics, regardless of grade level.  This time around, we chose the
Light Blue Series
, specifically the 
Grade 7 Complete Curriculum
.
If you are new to Math Mammoth, the first thing you will notice is how the teaching is incorporated with the problems.  Other math curricula we have used has the two very separate.  My mathy children especially like this, because they often skip the teaching portions and head straight to the exercises.  Often figuring out how to do it by doing it.  If they get stuck, the teaching is right there, not requiring searching through a separate book or pages.  Occasionally, my daughter needed extra help or wanted to do more problems to be sure she fully understood a new concept.  We utilized other resources like the Math Mammoth YouTube channel or the additional worksheets to print that come with the complete curriculum.
Included with the complete curriculum is the student worktext, broken into two volumes.  This includes the answer key for each.  I really appreciate that this is separate from the student pages.  I can print only the pages my daughter needs for a week or two at a time.  We 3-hole punch and put in a binder, along with blank or graph paper to work on.  She turns the sheets back in to me as she completes them.  I can grade to the key and go over with her any issues or problem areas.  This is one area I need to stay on top of so that we can correct errors before she gets too far.
In the getting started guide there are three loose schedules laid out that allow me to gage our pace.  Because this level can be used in a number of ways, depending upon testing and your state's requirements, there are two chapters that you may or may not use.  The schedules are laid out to include everything, omit a chapter on Pythagorean Theorem, or omit the chapter on statistics.  While this text does meet (and exceed) Common Core Standards, it was not written to Common Core Standards (for some this really matters).  We have always found Math Mammoth to be right on grade level.
One of our favorite features of Math Mammoth is that is mastery oriented and self-teaching (for the most part – my daughter seldom needs me).  Mastery oriented means that she is completing a topic when she encounters it, we aren't going to come back around to it (spiral) to add a bit more later in the semester or year.  This is our preferred method of learning math.
As mentioned, my daughter seldom needs further instruction or help.  The explanations and teaching given by Mrs. Miller are based on number sense and conceptual understanding; this really speaks to my mathy children.  Don't think Math Mammoth is only for the math-minded.  My other children, the ones who struggle with math, also enjoy the teaching style of Mrs. Miller.  Some of the videos on the YouTube channel give the types of math tricks and helps that my math teachers never shared.
Math Mammoth offers both the grade level (grades 1-7), Light Blue Series and topical, Blue Series work texts. Additionally, there are South African and International (metric) versions of the Light Blue Series.  Additionally, the download and CD versions include additional files for the various currencies (Canadian, British, European, Australian and South African).  Be sure to check out all the reviews, some of my Crew friends are Internationals so you might find some of these reviewed here.  Simply click the image below to see all the reviews.