As a homeschool mom, do you find yourself learning alongside your children? I sure have! History was never my favorite subject growing up. As our children are learning, I am not only learning, but enjoying it — especially history. Believe me, no one is more surprised than me. It is due in large part to the resources we use, like those from Drive Thru History. Lately, we've been using Drive Thru History® – "The Gospels".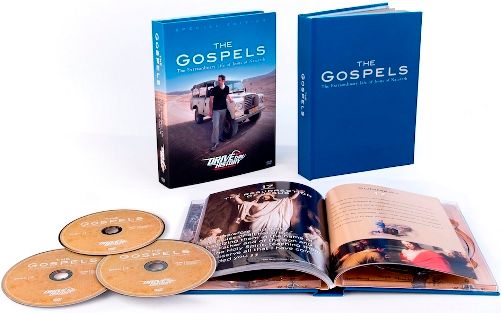 The children and I have known and watched some of the Drive Thru History productions over the past couple of years. My husband has not been able to view these with us. Because we received the Special Edition DVD set, we were looking forward to sharing a favorite resource with him. We were not disappointed. Daddy, the history buff and Bible student, was quite impressed with the videos we have watched. We have been watching an episode each Sunday afternoon. Then, my husband leads our discussion of what was covered. I don't know about your family, but in ours, naps are a common occurrence on Sunday afternoons. Not when Drive Thru History is on the agenda!
The Special Edition set we have is compromised of 18 episodes on 3 DVDs. The 100+ page study guide is bound in the center of the hardcover-book-style case. The set is enclosed in a slipcover and is equally at home shelved with our Bible resources or our educational DVD collection. I still haven't decided where it should stay. Not that is staying anywhere except by the DVD player, because we are eagerly using it each week.
Each episode is about 30 minutes in length. You can select to view it as a whole or select by segment. We thought we would view by segment and discuss between. Our DVD player continued right through and we were all so engaged we did not even notice and watched the whole thing. Our host for this grand adventure, Dave Stotts, made us all feel included, from young to old. The episodes have been as entertaining as they are educational. It has been so neat to see the Gospel come to life through the actual locations and artifacts that remain. Our children might "know" God's Word is truth, but seeing it in this way makes it even more real.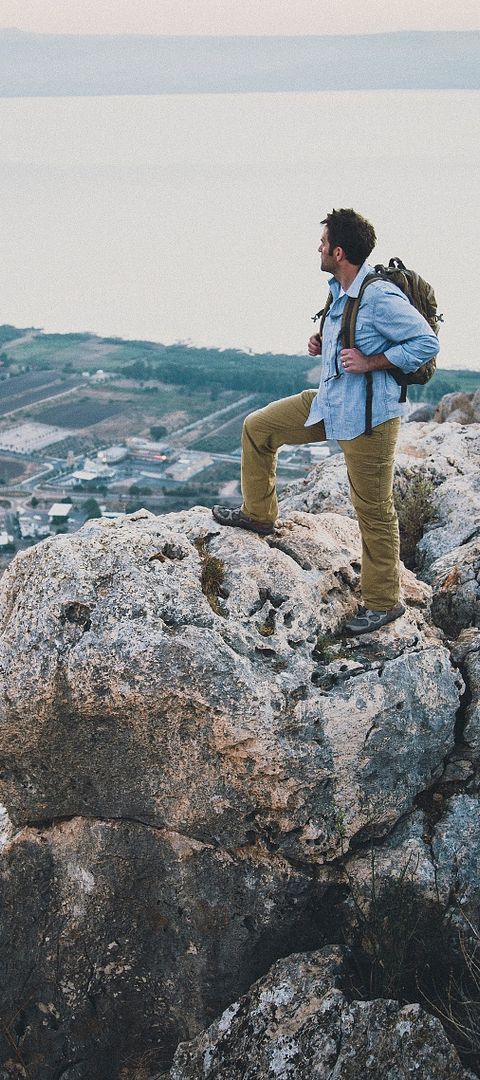 We use various Scripture translations in our home, leaning more to the word-for-word vs thought-for-thought spectrum. We are pleased with how the study guide left you free to choose your own translation. The discussion questions are exactly that, questions to spark discussions. Depending upon the age(s) and maturity of your learners, the discussions can be short and simple or dig deeper. The recommended age is fifth grade and up, our oldest children certainly gained the most from this, though the younger two (1st and 3rd graders) thoroughly enjoyed each episode. Specific chapters in Scripture are given for additional reading.
Also for each episode, there is a section called Side Road (in keeping with the driving theme, my boys love that). This is usually an interesting bit of information related to what the episode covered. The Side Road from episode 4 (in which we learn about Herod; Jesus, Mary, and Joseph fleeing to Egypt; and their return to Nazareth.) tells of the building of the Church of the Annunciation in Nazareth and the archaeological finds. The photos and artwork featured in the videos and study guide are beautiful as well. Most of the art works are labelled further enhancing the study opportunities to include art history. Mama loves it when one resource can bring in many different learning opportunities and experiences.
If you are not familiar with Drive Thru History, what are you waiting for? You will not be disappointed, whether you are looking to be entertained or to dig deep into the topic. Drive Thru History® – "The Gospels" can be used in your homeschool, Sunday School or any individual or group setting in between. Don't miss the opportunity to check out an episode by following the link from the Drive Thru History page. Be sure to read the other reviews from the Crew families that also enjoyed this