There may be affiliate links in this post.
Memorize the Times Tables
When I was in school, 3rd grade was the year everyone had to memorize the times tables.  We didn't just learn these facts, but recited them as fast as we could.  Fast forward an undisclosed amount of years, and my own children are struggling with this – not just the speed but the memorization.  Not only are they struggling, but they aren't sure it should even be required – "we can just do the math" they say.  When I shared with them about this review opportunity from Times Alive, online lessons with animated songs and stories to learn times tables the fun way, they were willing to consider the need, a little.
We decided that the two children that needed this help the most were the 11 year old and the 16 year old.  You might think they are too old, they should know this already.  You're right, they should know this already.  But, you are never too old to learn.  My son, the 11 year old, has never taken the time to memorize the multiplication table.  He is pretty quick with mental math and just figures each fact as he needs it.  He doesn't have any automaticity.  For his oldest sister, the 16 year old, math has never been her thing.  Possibly due to dyslexia, other learning issues, or stubbornness, she has never learned her multiplication facts.  She is much slower at mental math, but has used the same method as her brother.  She is an excellent auditory learner, so I hoped the catchy songs and stories would be just the thing to get these facts to stick.
Animation and Catchy Songs
There are a few different products that City Creek Press offers.  There are books and flashcards for both addition and multiplication.  We have been using the online subscription for learning multiplication facts.  This is available by the month so you are only paying for what you actually need.  We have been using this right around three weeks.  My son has finished the whole program and my daughter is close.  They have been signing in and using it for a minimum of 15 minutes a day 4 days or so a week.  Many days, my son just kept going, doing more than I required of him, just because he found it fun.  I can see all of the lessons easily being completed in a month's time by most students.  If it takes longer, you are not locked in any longer than that next month.  I like saving when I buy annual subscriptions, but if you are only using a month or two, there is no savings.  This is something Times Tables the Fun Way has done well.

Even my daughter, the sophisticated teenager, found the program with its animation and catchy songs to be very engaging.  I thought it seemed a bit cheesy, but that is the appeal.  Honestly, it reminded me of a favorite from my childhood, the Schoolhouse Rock series.  Not only does the program use a mixed media approach, quizzes can be printed, in addition to the videos, songs and interactive games and quizzes, but there is a purpose to the order.  Instead of beginning the lessons at the zero and one facts, working numerically through the 9s, the facts are learned in an optimal order.  I am sure there is much research and thought behind this order.  I am not a professional educator (nor do I play one on TV), so I trust the creators have designed this well.
Real Progress
While my children are having fun (the seven year old comes in just to watch when one of his siblings signs in), I wanted to be assured that they were learning.  Once my learner is signed in, I can select the Teacher's Directions.  This clearly explained the layout and purpose.  I could then see in the lesson list when the quizzes and progress checks were coming up.  I stayed close during these so I could see how well they were doing.  A few of these are repeated throughout the course.  Seeing how his score improved, not just correct answers (he "did the math" to ensure that) but his time went down quite a bit, my son was greatly encouraged.  My daughter's experience has not been as dramatic or quick, but we are seeing real progress, for the first time.  You can check in on their progress at any time to see for yourself how their time is improving.  There is no denying that the Times Tables the Fun Way really works.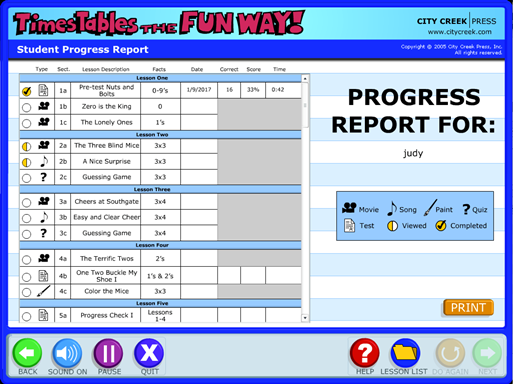 As much as we all like this fun, online math supplement, a few things would be make it even better.  Like many families, my children use tablets for independent school work.  The website is not accessible from any of our Kindle Fires or my iPad.  An app would be even better than tablet access of the website.  Each child's progress was tracked as long as they used the same computer to sign in and cookies were not cleared.  We didn't know this at first and so lost a few days work because cookies were being cleared.  My daughter thought she was needing to repeat those first lessons because she wasn't doing well enough.  Talk about discouraging!  Now, these things are not deal-breakers for us.  There are many times during the years I would have given an arm or a leg for a way of learning the times tables that actually worked for my children.  We have finally found it and it is priceless!
All in all, we really enjoyed this fun way to learn multiplication facts.  We won't hesitate to sign up the younger children when they are ready.  Other families have used and reviewed this program, be sure to read their reviews, too!  Just click the image below.