There may be affiliate links in this post.
My children's first encounter with a Gospel Tract was years ago at a restaurant.  They saw someone leave a folded piece of "currency" in place of a tip.  The child that noticed asked what the number was with all those zeros.  They were quite disappointed to learn that not only was this "money" fake but when our friend and waitress revealed no other tip had been left, their opinion that such things were sneaky and "not what Jesus would do" had been formed.  Now, we did not encourage their opinion.  On the contrary, we reinforced that the sharing of the Gospel is something we as Christians are charged with.  When we received a Gospel Tracts and Evangelism Tools Sampler Pack for using with children from Let the Little Children Come, their opinion of what Gospel Tracts are changed.  These tools were not sneaky or pretending to be something else.  The bright colors and puzzle aspects made them irresistible.

These tools surprised me as well. Not only are they engaging, but they are very straightforward. These tools are not pretending to be one thing while really being something else. These tracts and puzzles are fun ways to share the Love of God and the Gospel with children. Most of these tools are obvious and easy to figure out. The animated booklets with striped plastic sheet give movement to the simple message on the pages. There are three of this in the sample. The boys agreed that the animated books are their favorites. There are also three different "wordless" tools, a book, silicone bracelet, and beaded bracelet kit.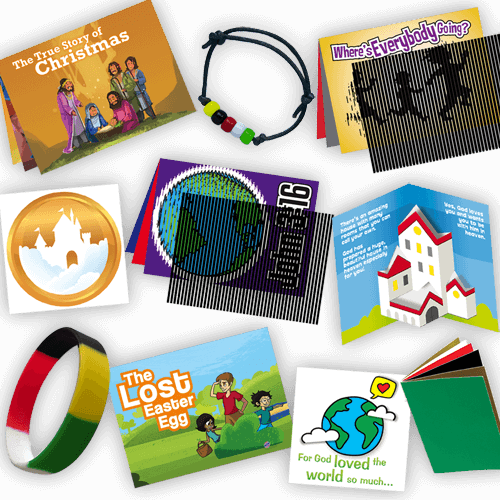 My girls and I agreed, our favorites are the pop-up tracts and the flip-abouts. These creative and artistic tools have my girls trying to reverse-engineer them to make their own. The flip-abouts were a bit tricky to get just right – we kept going in the wrong order, but there is a video demonstration should you need it.
There are many applications and instances where these tools would be great to have at hand or to send when you cannot go yourself. Short-term missions trip? Use these as small gifts for the children being served. Many of these would be fun to tuck into shoeboxes sent to children around the world. Or Christmas and other gifting programs in your own community. The "Wordless" resources all have cards presenting the Gospel through the colors (Spanish language versions available, too). You may want to only use those flip-abouts though for face-to-face use . . . Oh, who are we kidding, I was the only one that needed the video to figure it out. My children picked them up and flipped to each view with no problems. They did this with all of the tools. Children are so clever and quick!
Does your church have an outreach program for families, like a food pantry? What do the children do while waiting with their parent? The Wordless Bracelet Kit is an easy and fun activity with eternal impact. These would be a great activity to not only share the Gospel with these children but to send home with them as well. There are so many more than what our small sampler included.
Check out other reviews by clicking the image below. And don't forget to see all that Let the Children Come has to offer. You will be amazed at how fun sharing the Gospel with children can be.