When I first heard about Magic Stories I was concerned with that word "magic" in the title. Like many Christian parents, that word can be harmless, or could indicate something to be concerned about (yes, we're one of those families that avoid that certain book and movie series that many love). When I learned this new supplemental program for new readers is from Allsaid & Dunn, LLC, the people that brought us The Reading Game (which we loved) and the authors of Wordly Wise, my fears were lessened. When we actually received our files for the stories and I read them, those initial fears were completely eliminated.  These are wonderful stories!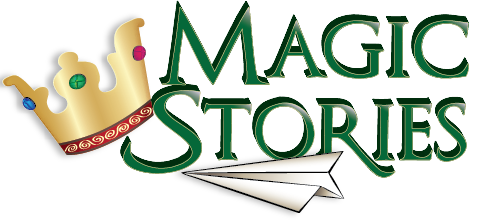 There are six stories to this set aimed at children reading at a 2nd – 3rd grade reading level. With each story are related word cards and four worksheets to cover various language arts skills. The worksheets are the same style for each story – Maze, Finish the Sentence, Imagine, and Finish the Story. The Maze sheet takes your child through the story – and the maze. They advance by determining if the statement is true or false checking for comprehension of what they read. The next activity is finishing the sentence, also for comprehension. The last two activities are where the learner's creativity is used. Each part of the Imagine page begins with Imagine… They might be exploring something in the character's life or relating some part of the story to their own. The last activity is very open-ended. Your child writes their own story continuing from the original. Prompts are given or they can choose to completely make up their own. Some of the stories were easier for my son to feel creative about. I tried to make sure there was no pressure and to keep it fun for him. Also with the worksheets is a page to evaluate your learner's reading. It is a short selection from the story for them to read. It is not something timed (much to my son's relief) but rather for checking accuracy.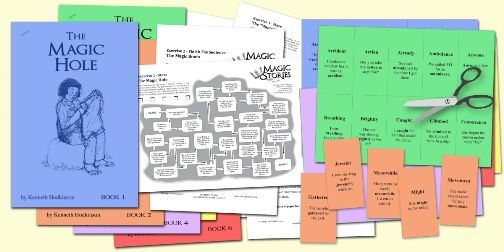 You can print the story or read it from a tablet or computer screen. My son liked the idea of reading from the Kindle screen, but I think the printed copy was more effective. He read the printed stories more fluently. There is also the ability to color the stories – one more reason to print them out. When printing, we did the covers and accompanying flash cards in matching card stock. All the rest on regular paper. If you plan to use the activities individually, you may want to print them that as some are the front and back of a page — and could end up on the front or back of another day's activity. I kept the papers, so this wasn't an issue for my son. His sister likes to keep her own papers organized, so I will need to print hers individually. Covering one story per week is a good pace.
My son I read through these with is reading at a comfortable third grade level. He is 11, so I was very pleased that these stories did not follow simple storylines that we typically find at this reading level. They seem to be retelling of fables – classic, moral-filled stories. The Magic Ax was his favorite. We've been splitting wood, so I wonder if that has anything to do with it. His younger sister has looked at some of the materials, too. She is really looking forward to coloring her books herself. Because her brother isn't interested in coloring them, I'm going to try to re-use the books and flashcards and only printing the worksheets for her use.
I thought it would be easiest to work with each child individually, though I can see this also being used in a small group (like our old co-op). The flashcard work could be done at home prior to reading the story during co-op time, taking turns rather than each child reading the full story individually. I have noticed my older girls did not get enough time reading aloud — like I remember from elementary school. I think including this as part of a beginning reader's experience helps to make it less intimidating.
Catch all the reviews by clicking the image below.