Once your child is reading independently, you don't need a reading curriculum, right?  Not necessarily.  Most of my children have needed more than just a list of books to choose from.  They still had more to learn about reading and from reading.  This is where Apologia Educational Ministries' new Readers in Residence Volume 1 (Sleuth) comes in.  This is the curriculum that I wish had existed years ago for my older girls.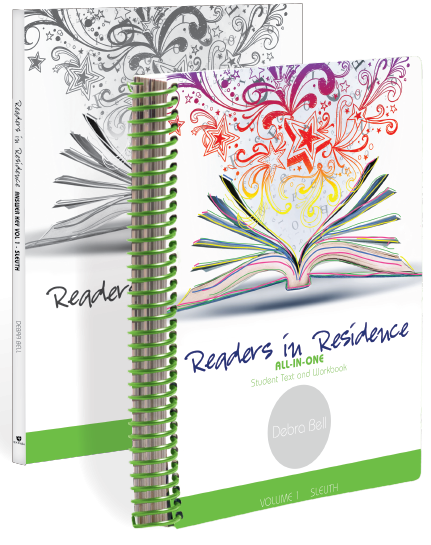 Not only does RIR guide my reader through the assigned reading, asking questions for comprehension along the way, but they are covering more.  As my fifth grader began working through the first unit, he covered fiction vs non-fiction, learned about genres, historical fiction, and "met" the author of the book for this unit, Patricia MacLachlan.  All of this was Module 1, before he was to begin reading the book, Sarah, Plain and Tall.  This title has 4 Modules covering 8 1/2 weeks.
Readers in Residence Volume 1, the complete set, consists of a student text/workbook combo (more than 550 pages spiral bound) and an answer key.  Your learner will be working out the student text, so each learner will need their own copy.  We loved how everything was self-contained.  All my son needed to complete most of the activities was this book and a pen or pencil (and the selected title, of course).  There are a few creative projects (for this first unit, he made a book cover for a made-up book) throughout the units that will use some basic supplies.
The answer key is much more than just answers (or possible answers as every child will answer a bit differently).  It is your guide for the whole curriculum.  The schedule is laid out (4 x a week for 32 weeks), checklists, grading rubrics (which your child will also do for themselves), and explanations are given.  This part has been a lifesaver for this busy mama.  When my son had a question, the answer key indicated what exactly is looked for.  I was able to direct my son to find the answer without reading this book.  I could help him find it himself, which is working him towards more independent work.  He will need me throughout, but I do not have to sit with him every step of the way.
The selections for RIR Volume 1 are Sarah, Plain and Tall; Charlotte's Web; and Because of Winn-Dixie.  My son has previously read two of these during third grade.  Using books at a lower reading level lets the skills learned come easier.  You may be wondering about substituting something else.  This is written not only for these titles, but specific printings (check the ISBN numbers – especially for Charlotte's Web).  This way, the page numbers and covers are the same as referenced in the lessons.  You will have the opportunity to choose a title of your own for three of the units.  Well, within reason.  Your child will be given a few parameters and you may have some of your own.  We're not quite there yet.  It will be interesting to see what my boy chooses.  He doesn't choose much beyond graphic novels.  There is nothing in the answer key for these units.  Essentially, your child will be putting into practice some of the skills they just learned in the unit prior.
Throughout Readers in Residence (Sleuth), your reader is being guided into thinking deeper and analytically.  The language and descriptive terms used in the lessons keep with the detective theme, making this more fun.  This has been not only a mama-pleasing curriculum, but a son-pleasing one as well.  It is not simplistic, either.  Should you have an older struggling reader, this would serve them well, too.  Notice that this is Volume 1.  I am looking forward to Volume 2.
To see what other Crew families think of Readers in Residence Volume 1, simply click the image below.