We were first introduced to Lamplighter Publishing through their audio dramas, Lamplighter Theater.  The delightful character-building stories drew us in.  The sound, Biblical Truths shown amidst adventuresome stories kept us coming back for more.  We have many of the audio dramas in our library.  This year's latest physical publication is our first print book, The Secret Bridge by Amy Le Feuvre.  This picture does not do the book justice.  It is beautiful to just look at.  Once you open the cover and start reading, you see that the beauty is not skin deep.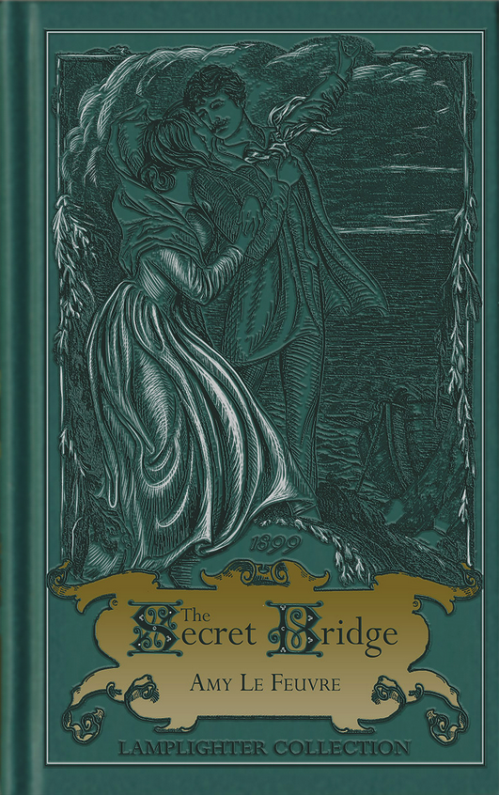 Lamplighter is known for bringing to life older books that demonstrate strong Christian character, Biblical values and Godly qualities.  The physical books published are not only desired for our bookshelves for their content, but their beauty.  I have long admired them at homeschool conventions.  Pick one up, they feel different in your hands.  Quality paper, strong binding and beautiful covers set these books apart.
Our story begins aboard a ship bound for London, England.  A young woman, Bridget Channing, is traveling alone.  She meets Godfrey Bullingham, a navy man.  She is reluctantly wooed by him.  Reluctantly, because poor Bridget finds herself alone, and without future prospects.  To Mr. Bullingham, it seems as though God has brought them together.  Bridget is not so sure, not even sure she believes in God.  And thus begins the grand story.
Despite my poor summary, I hope you have had your appetite whet, wanting to know more of Bridget's story.  At first, this seems like a sweet love story.  But, the love story may not be what it first seems.  The story encourages us to fall (more) in love with our Savior.  I do not want to give away the story — there are some wonderful revelations and twists.
Our experience with other stories from Lamplighter is that they are suitable for all ages.  They are very family friendly.  That being said, I had a few moments, in the beginning of The Secret Bridge where I wondered how appropriate the story was for my younger children.  We enjoy these as a family, so I was reading this one aloud.  While there could have been some questions raised by my children concerning the courtship of Bridget and Godfrey, there weren't any.  My older girls brought some things up later, in private conversations.  These were wonderful, age-appropriate discussions with my teen daughters.  This would have been uncomfortable (for me) with my younger children.  When I said I was going to read ahead alone and not continue reading aloud, all of the children raised a fuss.  Despite my thinking that my younger sons were disinterested, they quickly let me know that was not the case.
The Secret Bridge is listed for ages 12+.  As I am reading aloud, I can skip a scene or sentences as needed should something become a bit mature.  I have not, but do try to read ahead to be aware of what is coming.  Okay, I have also been so drawn into the story, I keep picking it up to see what happens next.  It is that good!
One of the notable things with Lamplighter published titles is the editing they have done.  Nothing is done to change the story.  Let me share how they put it:
Lamplighter books are edited within a Biblical theological framework to ensure that each story reflects the character of God and provides key Scriptures to be stored within the heart. The uniqueness of a Lamplighter book in contrast to other books with the same title is that they have been enhanced with helpful footnotes and woven with threads of Biblical truths that will be etched into an awakened moral conscience. These characteristics are what make our Lamplighter Collection so unique and highly valued.
Be sure to read other families' thoughts by clicking the image below for more reviews.