As a parent, I worry about failing my children.  As a homeschool parent, I worry about not teaching them what they need to know.  As a homeschool high school parent, I worry that we will neglect something that causes my children to be ill prepared for, well, life.  One of the things that worries me most is test taking – we don't do it.  Should one of my children desire to attend college or other higher education, I know they will need to.  Specifically, the SAT.  When we began high school work, I started preparing my eldest daughter for this, hoping to make it less stressful and scary.  We've been doing some tests for random subjects, but nothing as all encompassing as the SAT, and certainly not any essays under pressure.  I figured we'd get there, eventually.  That is why I jumped at the opportunity to review the latest release of the High School Essay Intensive from the Institute for Excellence in Writing.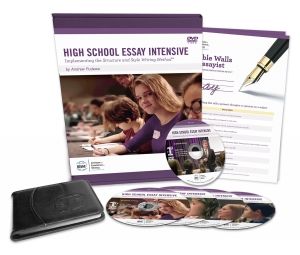 I have seen advertised the live sessions of the High School Essay Intensive, but I knew that wouldn't be a good fit for us, for many reasons.  They are generally held far from us (rural living, so many pluses and minuses).  Also, at least for our eldest, her learning challenges would make it difficult for her to keep up with the rigorous schedule of the day.  The name intensive should be clue, right?
We received an at home version of this course.  In our set were both DVDs and access for internet streaming as well as printouts of the handouts for the student and the Portable Walls for the Essayist.  There are five disks for the four parts of the seminar.  The first part, General Strategies for Essay Writing is covered in two parts/disks.  ACT and SAT essays are covered in parts two and three.  Because this is the latest release of this seminar, recorded in 2016, the information is relevant to the redesigned essay portions of these tests.  Part four is Strategies for the "Personal Essay".
When I sat down to watch through part one on my own, I was quickly joined by my two eldest daughters.  I had told them I would be watching to get an idea of how long the segments were to make a plan for how we would proceed.  It was a Sunday afternoon and we ended up covering the whole first disk.  My girls had not been looking forward to this (perhaps my own essay writing and language arts teaching anxiety showing?), but found they rather enjoyed listening to Mr. Pudewa.  His engaging style and ability to speak to the students made him quite relatable.  He "gets it" – their concerns and random thoughts that can derail their efforts.  He breaks down the information in easy to understand ways.
The printout (each learner will need one) is laid out to make it easy to take notes as they go.  With the outline on the front, my girls were able to check off each segment that we did.  Once or twice we did stop the disk to review what was said or clarify what had been explained.  With a disk, you also have the ability to easily rewatch a segment should your learner need to do so.  I like that we have the option to stream or watch the disks.
The portable walls are so handy for reference.  When we were covering the writing processes, it was nice to see at a glance the differences in inventive vs research essays.  I had initially been thinking of this as test prep, and it is great for that.  Upon going through the DVDs, I can see how this set is a great overview or refresher for anyone.  This could be used by an adult returning to the workforce or college.
The High School Essay Intensive course can be completed individually, at home, or would work in a co-op setting (be sure to purchase the proper set for this purpose).  This can be completed intensively, as the live seminars are, or more slowly.  With this DVD set, that is probably my favorite aspect, being able to tailor the pace to my learner's needs.  No matter college-bound or not, all of our students need to learn to be effective communicators.  That is one of the things I really appreciate about Andrew Pudewa and IEW.  Their materials are effective and truly for anyone.
Be sure to check out other review written by my Crew friends by clicking the image below.