There may be affiliate links in this post.
Many of you know how much we enjoy learning about other countries and their people. We especially like missionary stories. The missionary story that has had the biggest impact is that of Operation Auca (also known as the Waodani)in which Jim Elliott, Ed McCully, Pete Fleming, Roger Youderian, and Nate Saint lost their lives. We have been thrilled these last several weeks to learn more about these people of Ecuador and what happened next.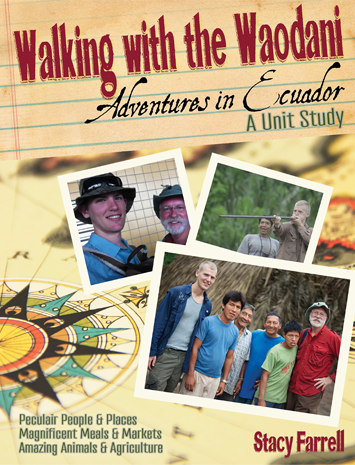 We have been "
Walking with the Waodani
" via the latest study from
Home School Adventure Co.
  This unit study lets us tag along with a young man on his 7-week journey in the jungle of Ecuador.  It may have been his adventure, but we sure felt as though we had experienced a lot.  One of the planned events, was a trip with I-TEC where he met Mincaye.  Mincaye is an evangelist and a Waodani.  This is where this story turns from your typical unit study.
Walking with the Waodani can be used as a once a week study, taking 20 weeks or you can move more quickly, covering each lesson in a week.  The flexibility lets you fit this to your schedule.  We incorporated a segment of a lesson a week during our Morning Learning Time (aka Lettuce Time).  Reading the information for that week's part, completing the accompanying student page and exploring some additional resources, we spent about an hour a week.  There are four lessons in Walking with the Waodani – Shell Mera (Then), Shell Mera (Now), Ecuador, and Quito.  Within each lesson are 5 parts
Lesson Introduction
People & Places
Meals & Markets
Animals & Agriculture
Worlds & Worldview
In addition to the text of the unit study are student pages, collectively called a Travel Journal.  These pages coordinate with each lessons part.  Travel Journal Notebook Pages, Mark your Map (or Ministry), Rate the Recipe, Draw an Animal, and Creativity Unleashed.  We love including a taste of a country we are studying, so I was really looking forward to this section.  Until we arrived there for the first lesson.  On the menu?  Grubs.  We had watched a video a few years ago that featured an Amazonian tribe and the adventurers joined in eating grubs.  So, my children followed suit when they found some in our woods that summer. Having had this experience, they thoroughly enjoyed this portion.  I cringed.  The third lesson, which we recently received a sneak peek of (this study is still being finished), features a delicious recipe from "Not Just Tacos" by Shirley Solis.  We have this book and enjoy the authentic recipes.
Of course, there are more than maps and recipes when studying a people and their country (though these are my favorite parts).  There are unique and amazing animals, interesting traditions among the peoples, all of which are learned about through this study.  The additional resources include books, videos and websites to explore these things further.
Part of what sets Walking with the Waodani apart is the very story told.  If you are not familiar with the events of January 1956 and Operation Auca, reading up on it and the missionaries whose lives were cut short is highly recommended.  It is not a prerequisite to this study, but would be beneficial.  Much of what we learned is what happened after that tragedy.  We see Christ's forgiveness lived out in the missionaries' families.  We see how God has changed the hearts of these people that before only knew violence.  These are wonderful examples for our children.  My youngest son (age 7) and daughter (age 9) enjoyed most of this study with us, but I think it is best suited for those a bit older.  My older son, age 11, really enjoyed this, as did my older daughters.
Not only did the Homeschool Review Crew review Walking with the Waodani unit study, but other families received various other resources from Home School Adventure Co. as well.  To learn about all the items we received and read the reviews, click the image below.