There may be affiliate links in this post.
Is there one subject that makes you doubt your ability and decision to educate your children at home? I think we all have one. Mine is Language Arts. We've stumbled through the learning to read process with most of our children. The ones we didn't struggle with, taught themselves. I have actually felt confident lately, working with our youngest daughter. The difference? We've been using a simple curriculum from Eclectic Foundations.  Specifically, we've been using Eclectic Foundations Language Arts Level B.  I found the "easy button" I've been looking for.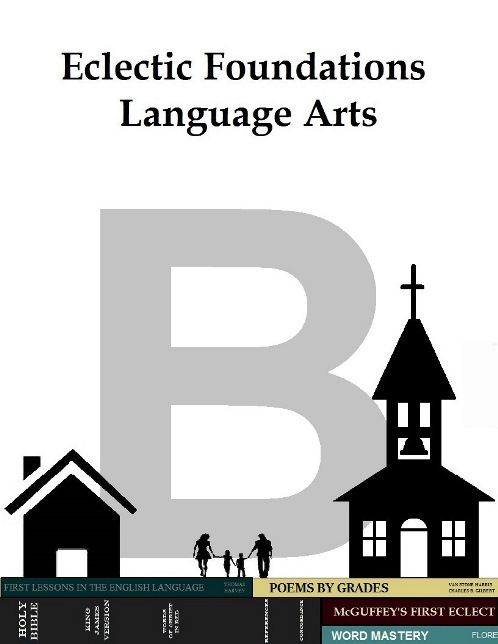 Language Arts is More than Learning to Read
Of course, language arts is more than learning to read and the whole process involves more than sight words and phonics.  The great thing about Eclectic Foundations, is that all these other areas are covered.  What may look at first like a set of plans for the McGuffey's First Reader is a lot more.  Yes, the Reader is used (it is important to note the version of the Reader used – the Revised version from 1879) but it is a component rather than the centerpiece.  The Eclectic Foundations curriculum is a complete language arts program including phonics, handwriting, copy work, poetry and grammar.  The Reader Lessons are read around every other lesson and referenced in addition to the day they are read.
There are five components to the Level B curriculum.  The thickest of these is the Student Workbook.  Your learner will be using this everyday, writing in it each day.  The second component is also consumable, you will want one for each learner to use this program (at the same time or in the future).  The word cards are printed on cardstock (or you will want to if using the pdf version) and cut apart for the individual words.  These also get colored, based upon their part of speech, making this my daughter's favorite component.  A close second in favorite part is the phonics practice sheets.  These are laminated to be written on with a dry erase marker (my daughter always chooses pink).  If you were using this with two students at the same time, you would want each student to have their own.
Teacher's Guide is Genius
The McGuffey's First Reader is the fourth component used.  This is in the public domain; meaning it is available digitally for free.  We could choose to read from a tablet, but prefer a paper copy.  You can purchase one or print out the digital copy (which is photocopied pages from an original).  The final component, and my personal favorite, the Teacher's Guide.  There are very thorough explanations given at the beginning followed by a page per day of what you need to do.  The teacher's guide does not duplicate information from the student's book — which I love.  When you are instructed to have the student read the word list – that list is on the student page for that lesson.  The things which you are to say out loud, the teaching, is in bold.  Typical answers to questions you are to read are in parenthesis.  You may be thinking, surely I know what needs to be said to teach this or what the answers should be.  Yes, you just might.  But then again, if your sleep was interrupted 6-7 times throughout the night and have a teething toddler, no clean clothes and cannot remember the last time you showered, you will be sending the author chocolate.  I am not in that stage of life anymore, (no toddlers at all; the rest might apply) but I still find myself so busy (and sleep deprived).  The teacher's guide is genius.
Simple and Effective
Each lesson follows the same format which we have changed up a bit to suit our needs.  We do the handwriting/copywork at the end.  Thus far, my daughter is writing each letter in cursive and does not need me to complete this part, so she does it on her own.  The rest of the lesson does require me working with her – and we both are loving it.  We complete each lesson in 15 – 20 minutes.  The lessons are short, but thorough; each day is building upon the last.  The curriculum is set up to be completed four days a week for 36 weeks.  If we had this available when we first began homeschooling (way back when the 16 year old was 5), I may not have the same feelings about teaching language arts.  This simple and effective way is a winner for us.
There are currently three levels (with the fourth releasing later this spring and more in the works) for Eclectic Foundations Language Arts.  There is a guide to find the best level for your learner.  To read more of the reviews, click the image below.