There may be affiliate links in this post.
The not-quite-a-teenager age is a difficult one – for parents and children alike.  Generally lacking maturity, but no longer little ones, it is not easy to find things that don't speak down to them or go over their heads.  We have found resources for most of our school subjects, but Bible resources are not as readily found.  We try not to encourage the popular trends, that rules out much of what is marketed to this age.  We were recently introduced to Kid Niche Christian Books and their Bible and Prayer curriculum, Weave Your Word in Me Part 1.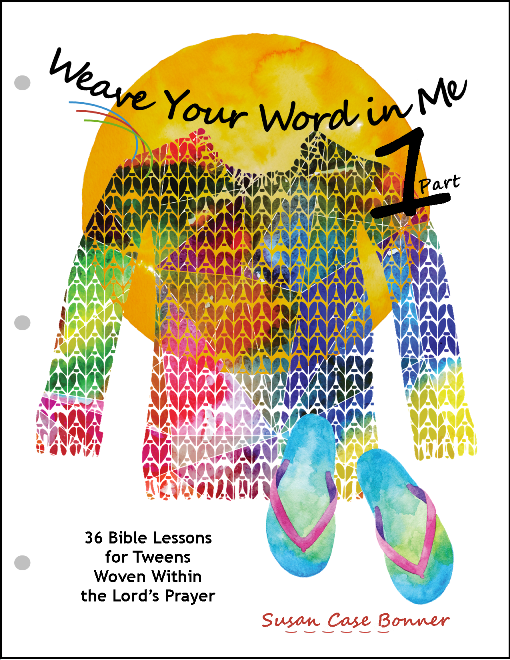 The curriculum arrived with the pages 3-hole punched and a cover ready to insert everything into our own binder.  From the cover, you get a feel for the colorful, arty feel to the pages.  The illustrations are minimal, simple, and not babyish – perfect for this age.  My 9-year-old daughter and 11-year-old son are the main users though their younger brother and I join in occasionally.  The lesson layout lets them work through this independently if needed.  Ideally, we read this together during our morning time.  In reality, we are working on this before morning time while breakfast is being made (and this explains why I am not always sitting right with them as this is done.  I'm nearby and we discuss each lesson as we go, but they are able to complete much of their pages alone.
The whole curriculum, 36 lessons in all, is based on The Lord's Prayer and a poem rewording this well-known passage written by the curriculum author, Susan Case Bonner.  My Whole Self Before You is the rewording (also available as a picture book for younger children — perfect to include younger siblings).  The Lord's Prayer is the model for prayer as given by Jesus in the gospels of Matthew and Luke.  There is a side by side comparison as well as another page color-coding the nine verses of the poem.  The color-coding and verse and used for the lessons related to the topic.
This Part 1 of the curriculum is teaching not only the model for prayer but also who is God the Father and God the Son.  The first four verses are the inspiration for these lessons.  Part 2 looks at What God Wants and God the Holy Spirit using the last five verses of the poem.  The Scriptural references are given for reading, answering questions, and discussion for the lessons.  The suggested translations are ESV, KJV, NABRE, NASB, NIV, and NKJV.  You are free to use whichever translation best suits your learner and your family.  The answers are given for all of these translations.
Despite my initial misgivings about the re-phrasing of The Lord's Prayer, (what's wrong with the original?), I came to appreciate this curriculum.  The various activities done and the discussions we have had show this to be an engaging and effective curriculum.  Sure, I would prefer to just teach directly from Scripture, but honestly, I lack the knowledge and wisdom.  Having this guide helps not only my children to develop a prayer life but helps me in leading them.  After all, one of our goals for our children is that their faith is their own, not an extension of ours.
Want to read another family's perspective on this tween Bible and Prayer curriculum, Weave Your Word in Me?  Simply click the image below to be taken to the list of posts.