Stories of immigration are inspiring and full of struggles, challenges and most of all, hope.  I've been reading an historical fiction novel set in the pre-Revolutionary period of the America.  Two of my daughters have been reading a novel of a family's immigration set in modern times.  It was only fitting to have an immigration story as our read-aloud title for everyone.  We've been reading Bessie's Pillow by Linda Bress Silbert, published by Strong Learning, Inc.  Bessie's Pillow is based on the true story of the author's grandmother.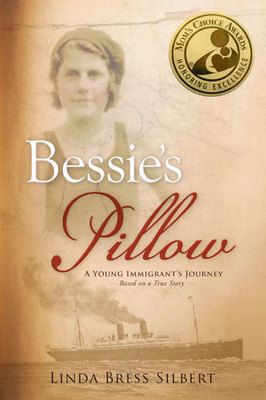 The story begins just as 18-year old Bessie is embarking on her journey in 1906. Leaving Lithuania, her parents and brothers, she is both excited and scared. The author drew us in right away with the vivid descriptions of the sights, sounds and smells of all that Bessie encountered. My children kept asking for me to read "just one more chapter", even the younger ones.  Though this book is really aimed at teens, I read aloud so we all could enjoy it (and I could edit on the fly anything "too much" for smaller ears).
Because of our other readings, we had insightful conversations on the topic of immigration. While a lot has changed in the 200+ years we were comparing, much of the immigration experience has not. One thing we noticed was the changing of names as immigrants came to America – often without choice. Bessie, our heroine of this novel, was not originally named Bessie. She was given this name by an immigration official at Ellis Island, a common practice to make the ethnic names more English. Her true name, Boshka, was thought to be either too difficult to spell or pronounce. We agreed that the more recent practice of keeping the true names was better, at least in our opinions.
Another topic we discussed as we read Bessie's Pillow, was reasons for immigration.  Religious persecution is a very common reason.  We are thankful that we the freedoms we do have living here.  Where would we go if this were too change?  I realized even our youngest children understood far more than I realized as we read and discussed.
Do you like to really dig-in when reading historical fiction?  We do.  The author has many multi-media resources so you can do that as well.  We looked at photos, film clips and listened to audio files to learn about the America that Bessie was living in.  There was so much going on!  Peach melbas have been a favorite of mine for. . . a very long time.  It was interesting to learn where they originated.  Want to get even more out of reading Bessie's Pillow?  There is a downloadable Teacher's Guide where you will find projects and language arts activities to to give your older students a rich study on topics surrounding this period in history and immigration throughout history.
We looked into our own family's and ancestors' stories of immigration.  This will be a longer, deeper look at our family tree.  Bessie's Pillow is not only an engaging historical fiction look at one young woman's journey to America, but a springboard for us to learn about our own family's history.
Check out the other reviews by clicking the image below.