We love doing art, exploring our creativity and attempting making masterpieces.  Our walls and refrigerator or covered with the results of these masterpieces.  While we have been making art, we have not spent much time in learning art – techniques, how to achieve certain effects, or use different media.  When we were offered the opportunity to review a Monthly Plan from Creating a Masterpiece, I jumped at it.
There are a few options for subscriptions.  A monthly subscription, which we have, includes access to all the projects across all levels.  This can be purchased monthly or annually.  If you will only be utilizing one level, you can purchase a full year access to just that level.  There are seven level options.  Levels 1-5 increase in difficulty and length.  The Beginner's level has simpler and shorter projects.  These are not so simple, only appealing to young children.  We all chose projects from this level.  The seventh level is Art in History (which has fewer projects, with more in the process of being added).  These projects use a style or technique from a time period rather than copying specific works of art.
As you look at examples and try the sample, you may be wondering who these projects are for?  The photos of young ones with their completed projects are actual students of Sharon Hofer.  These are the projects taught in this online art program.  "This is a fine arts program designed for school age students – not to be confused with making crafts or simplistic art projects."  I love that things are not dumbed down for the learners.  The instructions are appropriate for all ages (even adults).  Why do we usually lower our expectations for little ones?  When encouraged, they can accomplish great things.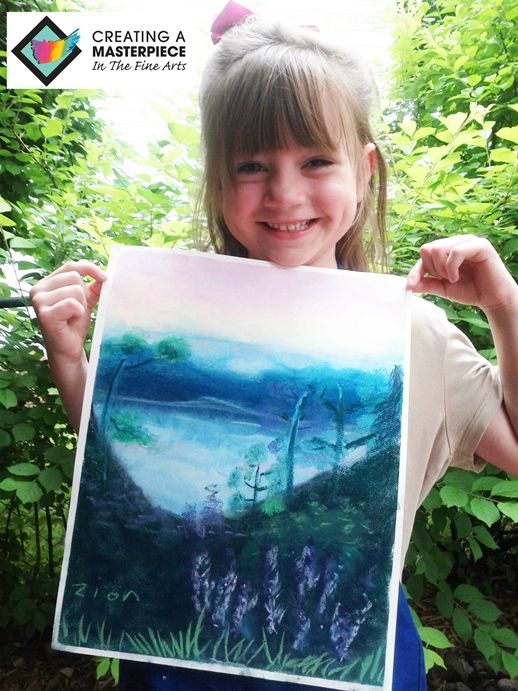 An example of a young student of Creating a Masterpiece
One of things we were most looking forward to with our subscription was all the various media used.  There are projects using oils, acrylics, watercolors and pastels, what we typically think of for art.  The media that really intrigued us?  Gouache and wood burning.  Soon, we will do glass mosaic and sculpture.  Is it just me, or do those seem like they would be better done outdoors?  With warmer weather, we use the carport more for school time.  I hope to get to the batik and silk dyeing before our access is finished, too.
The gouache and wood burning are the projects we planned first.  We purchased the recommended supplies (or more easily obtained alternatives) and watched the first video clip.  We tackled one of the Beginning level lessons, Granny's Crabapples in gouache.  If you use a hairdryer to speed the drying, this could feasibly be completed in one sitting.  We took two sessions to complete ours.  There are a few videos breaking up the steps which provided the perfect breaking points.  We learned a few techniques and tips that were entirely new to us.  We had not used gouache before and we are looking forward to some of the other projects using this media.  One of the recommended supplies, fixative, we skipped.  I wish we hadn't.  I really think it made a big difference in our finished projects.  Some of the supplies may be optional, but watching the lessons first will confirm this for you.  I wish we had.
We always seem to have scraps and leftover pieces of wood.  My daughter (16) found the perfect piece for her first project.  She had purchased the wood burner (a mid-grade option from Hobby Lobby) herself.  She watched and followed the steps throughout the videos.  It took her a few sessions from the sketching of the lion to the burning itself.  All of Sharon's instructions and tips were easy to understand and helped her first project go smoothly.  There are more projects to be added at lower skill levels – we can't wait.  She is looking forward to more wood burning of her own creation, too.
We'll continue incorporating these art lessons during our morning time once a week or so.  If you follow me on Instagram, I usually share our projects there.  With nearly 150 projects available, there are so many great examples in the Crew reviews.  Click the image below to check them out.