The end-of-the-year drudgery is upon us — or maybe just me.  My children haven't really been complaining, but I am having a hard time getting started and getting things done each day – at least as far as homeschool goes.  Am I really doing this right? Our eldest daughter is finishing her second year of high school. Am I screwing her up? Sound familiar? Next year will be different, I promised. But wait – wasn't that a promise for this year? Help!?! There is help with Homeschool Rescue from Only Passionate Curiosity.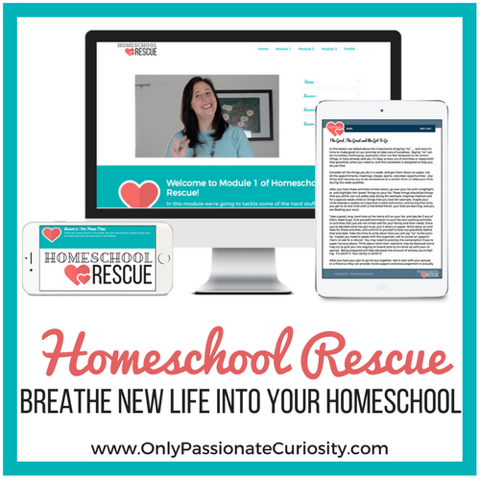 I know that I am not the first mama to have thought this. I know that we have been doing this successfully (I think?) for 11 years now. I know that I am using good curriculum that will prepare my children for wherever God may send them. I know my girl is better off learning at home, in the way that suits her best. I know that homeschooling is the best choice for our family. I know that I know these things, yet I still doubt.
What is a mama to do that knows, yet still doubts, is feeling less than sure of herself? I don't have many in-real-life friends that I can talk with face to face for pep talks and encouragement. I have some, they are great, but some days, you just need someone to guide you through the thought processes to get back (or gain) the confidence. That is what I have found in Homeschool Rescue.
What exactly is this "miracle cure"? Homeschool Rescue is a self-paced (two months or so is the suggested pace) online course, consisting of videos and a printable pages.  Heather guides and cheers you on throughout the five modules.  The first, is troubleshooting, finding out what is not working, what special considerations you have.  This was the hardest for me.  As much as I may feel that I am inadequate and not doing things right, I didn't want to actually take the time to figure that out — until Heather "made me".  This was much easier for me having an assignment to do rather than trying to do this on my own.
This first module is also where you will find the first bonus – learning styles.  I was very much into finding my children's learning styles for my older girls.  I have not done anything beyond think, "yeah, I should figure that out" for these younger three.  To tailor your child's learning to suit them best – and make it easier and more enjoyable for everyone, knowing their learning style is key.  There are a few bonuses like this sprinkled throughout the whole ecourse.  Some of the bonus resources are one of my favorite things – a private Facebook group.  Even should you not be a "talker" in a group, you can glean much just from reading along as other mamas ask questions and share their victories.
The second module starts in with one of the hardest lessons (in my opinion) for most women – saying NO.  What?  You mean I shouldn't agree or "volunteer" for everything I am asked to do – outside my family.  I don't need to serve on every committee or be involved in all the projects?  This is just the first part in seeing how much time you really have in your week for homeschooling.  It was eye-opening to see how much time we wasted, well, on nothing, that could be used for the fun things once we completed the necessary things.
One of my other favorite things about going through Homeschool Rescue this first time (yes, I plan to go through again, maybe annually – there is lifetime access, after all), was the nudge to help more of my children be independent in their learning.  Again, this was something we did fairly well with the older girls, out of necessity.  Now, I've not been as good about this for the last three.  Not only is there some guidance, but some printable resources for this too.  Next year really will be a better year.  This is not an empty promise.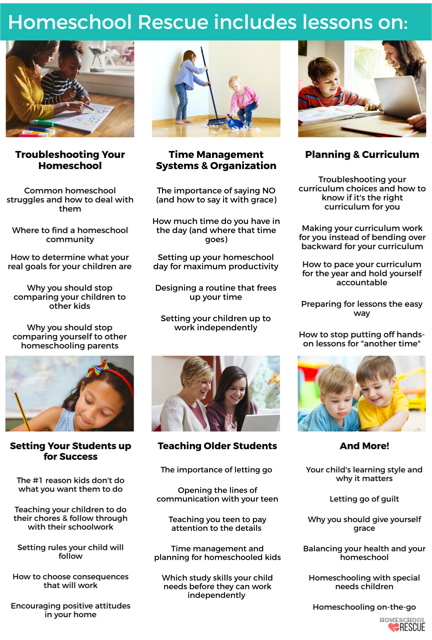 Homeschool Rescue is not just someone telling you how you should run your homeschool, Heather is implementing these things into her own family as well. This is not an easy button. There are deep thoughts and questions to ponder before answering honestly. But, taking the time to do this well will yield the best results – not only for yourself, but your children, too.  The e-course is only open to registration for a limited time.  It is much more effective, I think, to go through this with others so you can commiserate together and share in each others "wins".  The next live class will be starting soon, and registration will close the end of May.  Registration will not be open again throughout the summer (and really, you will want to do this before setting up your new year).  If you feel Homeschool Rescue is for you, don't delay.  Check out what all is included in
course
or the
FAQs
.  You can also check out the Homeschool Crew Reviews by clicking the image below.  It really was great to go through this with other mamas.  Maybe I'll see you in the Facebook group, I'll be around, cheering on this next class.