There may be affiliate links in this post.
Who would have thought, a mere five years ago, that my daughter struggling to read would become such a reader?  I really wasn't sure.  She still prefers audiobooks, but she is not opposed to picking up a physical book and reading.  Sometimes, she uses both together.  That was the case when she read Pride and Prejudice for Lightning Literature and Composition British: Early to Mid 19th Century from Hewitt Homeschooling.  Now, not only is my daughter enjoying reading great literature, but she is using to learn college-level composition skills.  *borrowed directly from the cover of our student book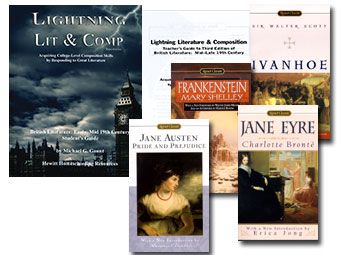 We've reviewed Lightning Lit before for 7th grade and Shakespeare Comedies & Sonnets.  As with the other Senior High courses, the main book, the Student Guide is directed at the student.  The readings which are not full works are included within the lessons of the Student Guide.  Also within the Student Guide are schedules, discussion questions, and project ideas.  Our three oldest girls are studying this together.  They have brought interesting discussions to the dinner table and are talking about doing one of the projects together – making a graphic novel.  I am not sure if they will stick to the true story or will do their own take (ala Pride and Prejudice with Zombies).  They have created a couple of graphic novels of their own storylines before, so this project really appeals to them.  Many of the other projects are of the research type, in a variety of areas.  We are also looking forward to watching movie versions of the selections.
There is a Teacher's Guide available, which we received as well.  It is not bound as the Student Guide is, glued paperback – spiral binding would be great for this.  The pages came stapled and three-hole punched.  I have a binder for my other teaching materials for Lightning Lit, so this was added to the same binder.  It is very helpful but not absolutely necessary to have the Teacher Guide – if you are comfortable with grading.  The reason I love having the Teacher Guide is because of the checklists and grading tips.  I love reading and discussing what I read, but ask me to grade someone's paper on what they read, and I am clueless.  With these resources available to the parent, this is a much less scary task. Truly, I would not want to be without the Teacher Guide.
The Pack contains both the Student and Teacher Guides as well as the four novels used in the course.  These novels include Pride and Prejudice by Jane Austen,  Ivanhoe by Sir Walter Scott, Frankenstein by Mary Shelley and Jane Eyre by Charlotte Brontë.  Any unabridged version of the book will do.  When page numbers are mentioned within the lessons, just know they may not always match up.
We have been following the year-long schedule.  This has worked best with our other literature-heavy courses and my writing-phobic children.  Throughout the first unit, approximately 6-7 weeks, three papers are assigned.  We are finishing revisions on one paper, rather than all three.  Depending upon the type of paper chosen, I will require all of them revised and a final copy completed.  My daughters like the selections and that they can choose for themselves what type of writing to do.  If I see they are neglecting something, I will have to exert my "teacher power" and make them do that type.  Lightning Literature and Composition is a resource we will continue using throughout all of my children's schooling.  The way that learning about various aspects of literature and poetry are learned in context and then addressed through the writing exercises are what keeps my children learning, even if they would rather not.
Hewitt Homeschooling also offers an evaluation service for your student's papers.  Some of the Crew members are reviewing this service in addition to the course they are reviewing.  To read all the reviews (Lightning Lit is available for so many time periods and grades) click the image below.