There may be affiliate links in this post.
We have included stories of missionaries during school time almost from the beginning. It is one of the things that seems natural to include during our morning Lettuce Time. As you might guess, audios are a great way to include this. One of my favorites is Brinkman Adventures. I won a blogger's giveaway for season 1 years ago. We've been hooked ever since. I was thrilled when we had the opportunity to download Brinkman Adventures Season 4 for this review. With Season 5 coming out soon, we needed to catch up!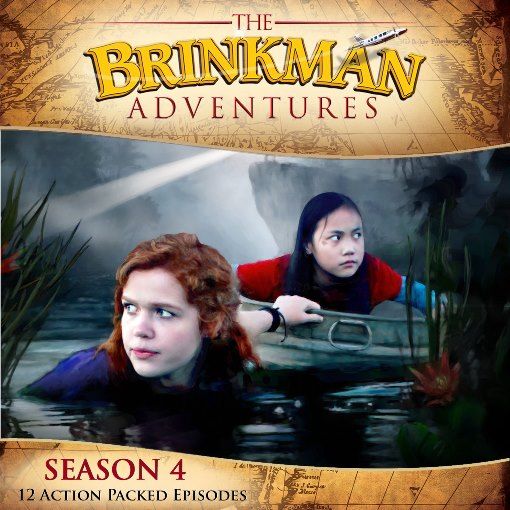 The Brinkman Adventures are audio dramas based upon the interesting happenings of the fictional Brinkman family. The family really exists, but names and other details are changed. We love the stories of their adventures and their interactions with other missionaries, and the stories those missionaries share. The family's adventures related to many little ones are ones we can relate to and bring many laughs. These moments help keep the youngest interested as well.
In the behind-the-scenes peeks, we also see what is fictionalized. One such episode, 44: War of the Raccoons, was very fun listening but had much for my children to glean as far as character goes.  Though made up, there were some great real-life moments demonstrated here.  Each episode has a theme that reflects what the main character learns or experiences.  The dramatized episodes can be heard on the radio, mp3 download or from CDs.  The five hours+ of audio drama is spread over 4 discs, 3 episodes per disc.  The episode titles and their themes for season 4:
A Paradise Lost – God is in Control
Remember Nhu – Persevering
Aisha's Fear – Overcoming Fear with Love
Heart Song – Tenacious Faith
The Crashed Kitchen – God Doesn't Make Mistakes
Crisis in the Congo – People Over Projects
The Mysterious Palm Feller – Confronting Evil
War of the Raccoons – Faithfulness in Work
The Five Guys – Listening to God
Toughest Man – Surrendering Everything
Cambodian Quest – Going Deeper with God
What Brings Us Together – Glorifying God in Every Vocation
Each episode is complete within itself and runs just under half an hour, 25:55 according to iTunes. While I planned to cover an episode over a couple of days, we never seemed to find a good stopping place. This actually worked well to listen to the complete episode one day and explore the Real Stories page for more information on the episode. Sometimes, we found links about creatures encountered. Other times we learned more about the real people the missionaries were sharing about. Seeing how faithful God is and how true these stories are is always encouraging.
Through the story-within-a-story format, we hear stories from missionaries from various places around the world, not just places members of the Brinkman family have been. In this season, we visited Cambodia, the Middle East, Russia, Zambia, and other areas in Africa. There is also a wedding, or is there?  The real missionary stories, the family adventures and the examples of God's love make this a great resource for character education for our family.  Don't miss the other Crew reviews; click the image below.